The fit is a little rough for me. I'm tall, about 73 inches, and I feel like the bike is small. I've ridden a few dozen miles to include a trip with a kids trailer towed behind, and it hasn't been really uncomfortable, but a little cramped compared to my Schwinn Trailway 28"/700c hybrid bike. Seat adjusts up but feels tilted back a little more than I would like. I have ridden in shorts and tshirt to the beach as well as khakis and a button up with backpack to work, ok comfort both ways. Perhaps it will just take some time to get used to.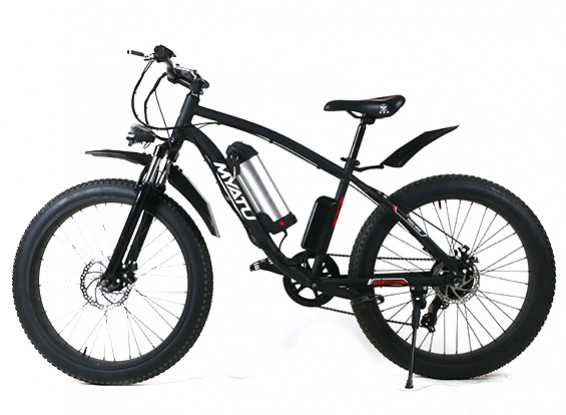 With so many new electric bicycles on the market, choosing the best while staying on budget can be difficult. Designed for commuting and off-road biking, the ANCHEER Power Plus Electric Mountain Bike is easily one of the most affordable electric bikes out there. In this review, let's go through its important features and the reasons you might want or might not want to use it.
Had my first crash on this bike. Right at the 500 mile mark mid-November. Sand had blown all over the bike path and I took it too fast. The bike did ok, but when I picked it back up the motor wouldn't work. I pedaled the rest of my commute and got a ride home. I suspected (and was correct) that the left brake lever was bent and the motor was not able to engage because it thought I was braking. I was nervous muscling it back, but it wasn't bent too bad. So that's what I did. And I also took the time to replace both wheels, inner-tubes, and give the bike a cleaning. The front wheel was still ok on tread but the back wheel tread was completely gone. Changing the front wheel was easy. The back wheel was more challenging because the motor cables and disc brakes. Ended up leaving the wheel on the bike and just moving it slightly to get the tube and wheel in place. Ended up just being more annoying than difficult. The chain cleaned up nice with some Simple Green. I haven't ridden on the commute nearly as much with me feeling a little more cautious and it getting dark so early (I don't need to wipe out in the bike lane into traffic...) All is well though. Have had zero issues with the motor since bending the brake back to its (or close to its) rightful position.
Mountain biking is all about having fun, right? About getting out there, enjoying the great outdoors, exercising your body and freeing your mind. So what if we told you there was a type of bike that lets you ride further, faster, and have even more fun? One that even made you LOL on the climbs? You'd still have to work for your rewards, but by assisting your efforts, it allowed you to wring every little drop of enjoyment out of your rides.
When it comes to the distance it can cover at a single charge, it really depends. For instance, if you live 13 miles from work and ride on a smooth, flat pavement, the bike has enough power to get you home. The battery level does decrease when the motor is under increased stress—like when you're riding up a hilly terrain—but it quickly levels itself when you go back riding on a flat road surface.
Everything arrived in perfect condition with minimal assembly. It took a moment to figure out where the headlight goes, and the rear reflector has a bike-seat (not a frame) mount, but I didn't even need the instructions. (Good thing, because the "instructions" suck. Find a video instead.) That said, if you buy this, pay attention: as others have noted, the front disc brake will be on your LEFT side when you're done (the fork is reversed for packaging purposes).
Amazing bike, quick. On the flat average 21mph full power, after 3-4 miles average 18mph. A lot of hills in SoCal so this 1/3 hp motor does it's job well with pedal assist on very steep grades. With electric only mode and heavy, steep, long hills this bike does its job pushing through a 16 mile commute with some energy to spare with a 190lb load of me and my gear. This bike could do much more with flat and pedal assist modes maybe twice as far. Recommend you use smaller tires 1.75 vs the standard 1.95 to achieve my results. Continental contact travels work great!