A couple of weeks in, I had a wreck (brakes were mounted reverse of what I'm used to; front wheel locked up during a turn). The half-throttle/light/horn assembly was damaged beyond repair. Emailed the official company account and the supposed owners' account several times; no response. I had to buy a near-identical part from a Chinese company and re-wire it myself.
I'm sure the can of worms has already been opened on this subject… Oh it's motor bike blah blah they should be banned, is this whining mostly from strava whippets who's times might be beaten? I raced motocross for 12 years & they are motorcycles with a internal combustion engine and yes they do make a mess of the country side but on land that has been allowed & nowadays has planning permission to be used for such events.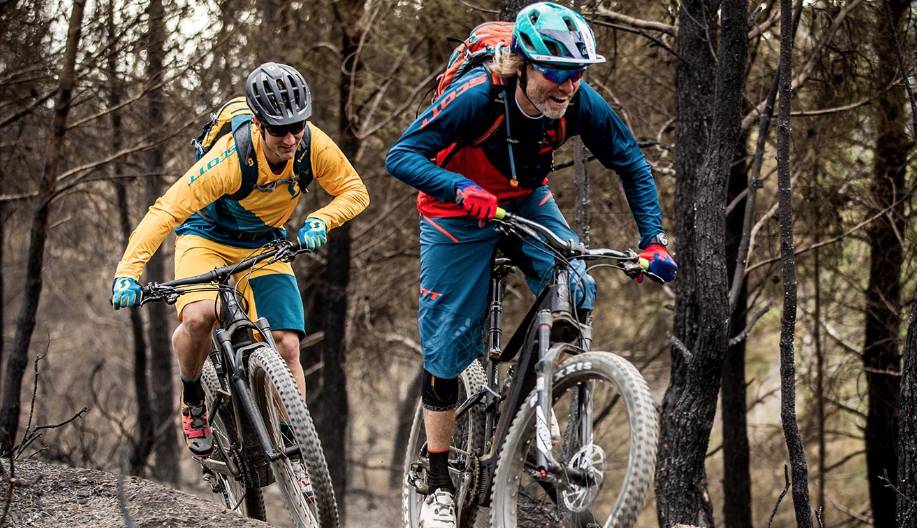 I've had the Ancheer Electric Mountain Bike for about a week now and figure it is time to post my impressions. Overall, I am satisfied with the bike, especially based on the price. It has not been without hiccups (see below) but after quite a bit of research online I am convinced for the price, nothing out there will compare. Not five stars based on a few pending issues which will hopefully be resolved. It is not perfect. I have no idea if the more expensive bikes are "perfect", though. I've spent some good time tinkering on this bike making adjustments so far, but that's normal for any new bike.
The fit is a little rough for me. I'm tall, about 73 inches, and I feel like the bike is small. I've ridden a few dozen miles to include a trip with a kids trailer towed behind, and it hasn't been really uncomfortable, but a little cramped compared to my Schwinn Trailway 28"/700c hybrid bike. Seat adjusts up but feels tilted back a little more than I would like. I have ridden in shorts and tshirt to the beach as well as khakis and a button up with backpack to work, ok comfort both ways. Perhaps it will just take some time to get used to.
My first instinct is that it's a horrible idea. We're cyclists because we are fit enough. We've earned our way to the top. Why should some couch surfer be able to meet me there to enjoy the downhill? (I'd beat him down of course because my bike is lighter and more nimble.) And also, where do you draw the line between an electric bike and an electric motorcycle? I'd hate to meet a Zero FX or MX coming up the downhill trail I'm riding.
What i'd really like is the ability to custom tune the standard speed settings with regard to the torque curve/output and perhaps have a top speed of 18mph or thereabouts, back when i could ride a normal bike under my own steam there were some sections of my local trails where i could easily maintain 20mph+ through the single track (allowing for acceleration out of the corners) as it was on a slight fall line. It's all brain-farts at the moment so the tuning kit is still in my toolbox and it may stay in there.
With 170mm travel, aggressive angles and Shimano's superbly calibrated STEPS motor, the Focus Sam2 is an enduro bike with a built-in shuttle. With the bolt on TEC pack you really can climb to new heights, but without it the smaller capacity internal battery means you need to be ultra economical with your energy use. It's also frustrating that the internal battery can't be removed easily for charging. By far the biggest frustration with the Jam2 though is that the sizing isn't very generous and standover clearance is limited. It's still a great e-bike, but when you're spending this much money, you can afford to be fussy.
Why We Like It: This is a very capable mountain bike that just about anyone can ride and enjoy. It has great suspension, a smooth ride, and amazing tires that grip everything. The charge time and the battery's odd position on the frame are our only gripes, but those things aside, you can't argue with the power and quality of this fat electric bike. It makes a heck of a beach cruiser. You'll love everything from the front hub to the back hub.
The furthest i've been so far is near enough 50 miles and 3500ft of climbing and i returned home with 1/5 left on the battery – the motor is loosening up nicely so i expect i have a genuine 60miles+ of off road ability if i take it easy, I managed a full lap and a bit at kirroughtree with a decent pace without having to place a foot down once and returned to the car park just as the battery fell form 3/5 to 2/5.
E-bike & Assisted bicycle & Normal bike. With the LED 3-speed smart meter button, you can choose the electric assist power according to your needs. You can add a burst of speed with the throttle, which is ideal for pulling away from traffic lights. Combining three modes would be a better choice. ANCHEER Power Plus Electric Mountain Bike is the best option to improve your riding bike experience.