Weight isn't anything like a critical as one would assume. Weight distribution however is a different matter and this is where geometry, specifically the ratio of the front centre measurement to the chain stay length really comes into play. Battery placement is important too, and smaller batteries give an edge in the handling stakes while robbing the bike of range.
M8 has had a cube with the Bosch motor, reduced from Europe but a solid spec & loves it, been cycling more because of it. It definitely brings a smile to your face, laughing at climbs that you'd normally slog up. Horrible muddy trails become a motocross frenzy, balance being more the issue than grip or momentum. He's happy to lend it on rides, so three of us all different sizes, jump on it & it doesn't mater that it not set up for you, the motor makes up for any details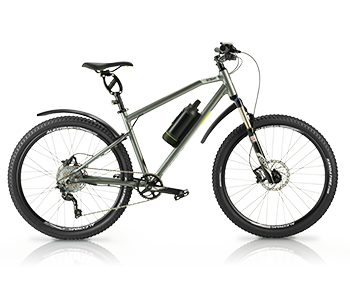 I haven't given a full benchmark on battery life as I haven't gone without pedaling just using the motor. I live in a hilly place and I need to pedal to make it up some hills. But initial impressions are good. My hilly trip to the beach with kids in tow was about 13 miles round trip and I made it down to 3 of 5 bars on the battery. The battery does go down when the motor is under stress but levels itself when back on level ground. Battery is looking good.
This is a good electric bike with all the features that you could ever desire from your model. It is affordable, high tech savvy and can accommodate a range of different body heights and shapes owing to its clever design and strong frame. Therefore, it really is very versatile. You don't have to be a pro biker to purchase it, as it can be just as fun to ride around town or cycle out on your daily commute.